Quality Assurance and Testimonials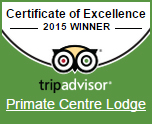 Quality assurance
With 42 years of monkey studies to our credit, we teach, entertain and inspire you about monkey lore and natural history. You will benefit also from our 15 years of experience running programs for Earth watch Institute volunteers, students and professional. Our service has been fine-tuned to assure that visitors have the greatest benefit from their experience. Participant's unique experiences have been depicted in the documentary film "Monkey Politics: Walk on the Wild Side" (download) and in their testimonials.
Awards for science
Our research results are published mostly in peer-reviewed scientific journals or books that prerequisite a high standard of scientific work (See Publications). We have received the Sri Lanka President's Award for Outstanding Achievements in Scientific Research for several years.
Research Center, outreach and expeditions
Locally, at Polonnaruwa, our primate research station is known as the "monkey camp." Here we are a center for conservation action and education and we are involved daily with our neighbors on these matters. We also engage visitors in casual or specially designed programs; the participants' evaluations of their experiences with us are detailed below.
Visitor's Log Book comments
Prof. David Campbell,  Grinnell College, USA (September 2011)

Fascinating … and such a long-term study too.  Only with an inter-generational study like this can the sociobiology of primates be revealed. Congratulations.
"The Israelies" (September 2011)
Thank you for such a wonderful stay.  You have a great place and good luck with your research.
Suren Basnaykae, Nature Odyssey, Sri Lanka (Occtober 2010)
Dear Dr. Dittus and Team, Our stay at the Primate Camp has been very special.  The accommodations and food have been excellent.  Now I know why staying here is the highlight of most of our clients' trips.
Chamara Illeperuma (May 2009)
Very simple and perfect. All my expectations over met. Thanks a lot.
Donald Ferns, cinematographer, New Zealand (2009)
A truly magical place and a fantastic stay! Great food, awesome swimming, incredible wildlife and monkeys! monkeys! monkeys! It's been a real treat to spend some time at monkey camp and meet you all. I hope to come back and see the rest of Sri Lanka one day. Thanks so much Wolf, Vatsala, Sunil, Ukubanda, Bandara and everybody else whose names I can't spell!
Dr. R. Rudran, Scientist Emeritus, Smithsonian Institution, Washington DC, USA (Oct 2008)

(Oct 2008). It was fantastic to come back to the place where I was trained as a primatologist nearly forty years ago! Again, the primary objective of my visit was training! – of nine youngsters who will be working on a project to help conserve the highly endangered Western purple-faced langur. Thanks to the outstanding work of Wolf and his field team the training was made so much easier and meaningful. When working with habituated and individually identified monkeys. The services provided by Ukku Banda and his kitchen crew and the two Sunils were also superb. What more can one say or what a memorable two-day visit? Thank you! And hope this facility remains as a permanent institution to help promote research training and conservation of wildlife in Sri Lanka.
Mark Chappell, UK (21 May 2009)
To the Primate Research team. I have been treated to wonderful hospitality by everyone here, and shown the vibrant primate life of this area. Please keep up the important work of continuing the quest for more information about our primate cousins and working to reduce the issues of conflict that threaten the prosperity of monkeys and humans alike.
Chandima Kahandawala , Sri Lanka , May 2008
Heaven on Earth for both holidays and the scientists. My best wishes to Dr. Dittus for maintaining such a place and the vast knowledge that is available to the keen.
Bill Morris (NHNZ film crew) June 2008
An incredible 2½ months! Thanks everyone of a once … in a lifetime experience!
Lynn Killam and Barbara Lester, Curator of Primates, Houston Zoo, USA (Oct 2008)
What a great experience at the Primate Research Center. Sunil gave us so much information about history and ongoing research of primates in this area. We also discussed the captive animals at the facility and some management techniques to help keep them healthy and to encourage normal behavior while still being in cages.
Prof. Nimal and Prof. Sivitri Gunatillke, University Peradeniya, Sri Lanka (July 2009)
We are very grateful for giving an opportunity for our students and ourselves (45 in all!) to listen and interact with Sunil at such short notice. The Biology students were fascinated by the commitment and effort that your team is putting on towards conservation of wildlife in Sri Lanka.
Prof J. P. Edirisinghe, Head Zoology, Univ. Peradeniya, Sri Lanka. (July 2009)
It was great that at v. v. short notice we had the privilege of visiting the "monkey camp" The students and I treasure it very much. Hope we could have more interaction in the future. Keep up the good work, it is really admirable.
Major M. Deegahawathura and friends, Sri Lanka Army (August 2009).
Although it was a very short stay at the "Monkey Camp" the environment and the knowledge gained here was truly fantastic. We thank Mr. S. Gunathilake for his great hospitality and kindness shown towards us. We take this is a great learning experience and with to visit again.
Comments by participants in the Human Family Meets Monkey Family tour
Clery, France, (August 2011)
A really lovely and peaceful place… How to forget about all our friends, the primates ?  Good food, good reception and more over, our hosts.  Their knowledge best than any reading.  Outstanding.
The Keane Family, UK, (August 2011)
Thank you so much for the monkeys experience.  it was very informative.  I will no longer look at a troop of monkeys, instead i will see a collection of individuals …  The researchers are well informed and excellent company.  The food and accommodations were excellent, this was a once in a lifetime experience.
Robert Smith, August 2010, England
I never expected so many insights into our own behavior from studying the monkeys! Many thanks for spending so much time and sharing your knowledge with us.
Rob Ward, August 2010, England
Thank you for an extraordinary experience. The center is amazing and we felt very welcome. Congratulations for the fantastic work that you have done…. Great location and amazing swimming…
Tucker family, August 2010, England
An incredible two days in a fantastic environment. The experiences with the monkeys was real insight into a different world with many parallels to our own. Being able to experience the monkeys from such a wonderful base just added to our time spent here, and we could not have been looked after better.
Rebecca, August 2010, England
Thank you for looking after us so well and allowing us to share a little of your world …and for taking time to share so much of your knowledge…
Acton Sperry (11 yrs) 2010, England .
Thank you for a great time. The things that have happened, like monkeys touching me and getting so close. I have enjoyed my time here a lot. Thank you for all your hard work. Food was amazing.
Christina Osullivan, 2010, England.
Thanks for making Monkeys in the Jungle so special. I wish getting up at 5 am was always so rewarding, I have learnt loads about monkeys.
Helen Payne, 2010, England
Fascinating facts about monkeys. I really enjoyed learning about them. The Temple Troop plus all the background we had from Wolf (Dr. Dittus) opened my eyes to a new world and I was never bored.
John, Kate, Isobel (age 11) and Thomas (age 6) Hubner. 2010, England
We have had a wonderful experience at your primate camp – such a tranquil and beautiful spot. Thank you for your hospitality –we have been very well looked after. An unforgettable adventure.
Jan, Tom, and Max (age 12 yr) Stockwell. England, 2010.
An absolutely fantastic experience. My children have really loved being here. Thank you for all your efforts.
Amy (age 10 yr), 2009. England
I loved the monkeys!
Molly (age 12), 2009. England
A brilliant experience with lots of excellent activities. Thank you.
Clive, Ninette, Elliot (age 10), Scott (age 9), Ross (age 7). 2009. England
What a privilege it has been to explore the lives of the Macaques and Langurs. Sitting with them and watching them feed, play, establish dominance etc was truly remarkable. Having Dr. Dittus to help us understood really made the adventure complete for us and the children. Thank you.
Comments by volunteers in the Volunteer – Be the Scientist program
Paul and Zoe Nolan, October 2011, England
Wolfgang and team,
This has been a wonderful, unforgettable experience.  We have learnt so much and seen so much more than we ever expected.  Being so close to the monkeys for two weeks has been a very special time and we will treasure the memories.  Your staff have been so kind and patient and great fun.  You are a wonderful host and we really enjoyed our discussions and time with you.  Thank you for everything.
(there wee no two week-teams from 2007 to 2011)
Shelly Hodgson, 1998, Teacher, England.
This project exceeded all my expectations it was challenging, rewarding, breathtaking, awe inspiring, humbling, exhilarating and wonderful. It was a privilege to take part.
Maleen Brooke, 1999, USA, Student
I found this trip to be extremely in formational and hands-on. It was an enlightening experience that will be unforgettable; I thoroughly enjoyed the company of the staff and other volunteers. I also love the volunteer work and would consider coming again.
Ann Goldstein, 2000, USA, Social worker
Enjoyed an excellent time, learning, working, and having fun. Loved taking a swim in the tank (lake). Found observing the monkeys to be a more in depth learning experience than I could ever have imagined.
Willa Brown, 2001, USA, Student.
I arrived not knowing what to expect and have been pleasantly surprised all along the way. My desire to take part in a program incorporating biology, volunteer and culture has been successfully fulfilled and I owe most of what I have gained to the excellent staff here at Polonnruwa. Not only has this experience provided me with means to expand my world but it has helped me to confirm my growing suspicion that studying zoology is the course that I would like my life to run. I thank you for allowing me to work through my reservations and apprehensions to arrive the end with a clarified view of myself. I appreciate all that has been done for me and my fellow volunteers.
Laura Spain, 2001. USA. Teacher.
Thank you for the experience! As a teacher I feel that the past 2 weeks are only going to make me a better educator and more an "open eyed" human being. I have enjoyed the time with the Polonnaruwa crew and the time I had traveling in Sri Lanka before hand. I feel very fortunate to have had these last few weeks and hope that I can share the experience with my students as well as my dear friends and family. I also want to say that its people and scientists like Dittus, Anjali, Sunil, Nadeera and Nilantha who are going to make our world a better place to be. Not just for us but for all living creatures. You're all doing a great job. Thank you!
Andrew Paget, 2002, UK
An excellent and most enjoyable experience. I was made most welcome. And everyone was very tolerant in my novice approach. Thank you for all very much and best wishes for the future
Trisha Comrie, 2002, UK, Event Organizer.
Real bonus, I leave reluctantly having had a really wonderful time, both on the project and of, in the company of interesting and fun people – project personnel and volunteers alike – thank you for such a great opportunity
Val Macconnell. 2003. UK, teacher.
The project experience improved in terms of enjoyment and understanding my value to the project as we moved into the second week. We especially (M3) had no let up in our days. Time off was to eat or shower or siesta, after being in the field and early starts. I was difficult to get to the bank or even get a sense of where we were for quite sometime. As I became more engaged and especially after the second lecture a lot of things made more sense and I really appreciated what a unique and valuable project I had the privilege to be part of. I think it would be useful to ask the volunteers what scheduling their free-time and programs, some evening sociality to look forward to and was great.
Priya Nadkarni, 2003 , India , Banker.
Studying this interesting species has been a memorable experience which I will cherish for life. It also gives me immense satisfaction for having contributed in my own small way to this research. The project staff is extremely helpful …. I am taking home with me a lot of interesting facts and a greater understanding of social behavior. My teammates have been fabulous and have helped and added value to every bit of the project…. To summarize, it has been a wonderful experience studying macaques on this magical island.
Carly Anderson, 2003, USA.
I really enjoyed the experience I've had. The monkeys were great and I appreciated the opportunity to follow them over 2 weeks. I've learned a lot and I'm very glad I could be part of the project. Thank you.
Rina Sato , Japan , 2003. Biologist .
I really enjoyed this project. PI gave us a lot of lectures from the basic level about behavior, evolution and conservation of primates. Observing macaques is fun and their facial expressions is very interesting. I want to come back and join this project again. I like the staff here very much….
Vicky Calaghan. 2004. British.
Highlights were Ukku Banda'a cooking and observing the monkeys. Accommodations exceeded expectations. All staff really helpful and pleasant. It was a privilege to be able to work so closely with wild animals and to participate in the actual field work. Brilliant! (I can't stop identifying tress now either!)
Anna Freitas, 2006. USA.
It was great having so much direct contact with Dr. Dittus. He was welcoming of questions and very open with responses.
Anne-Marie Godfrey. Australia. 2006. Corporate Banker .
Staff made the trip a pleasure and made it an experience that would be difficult to emulate on a normal holiday in terms of local knowledge, culture and showing us a little to their lives as Sri Lankan. I was an experience that I would recommend to anyone interested in something different.
Vandana Kaiju. 2006. USA. Banker.
It was an educational experience which has changed me perception of wildlife. The PI lectures and our experience in the field, has helped me understand the relevance of research work being conducted across the world.
Katy Smith, 2004, UK, Biology Teacher.
Overall a unique experience which I thoroughly enjoyed despite the early mornings! Very useful to me as a teacher to bring back to the classroom.
Sayed Hassan. 2003. India. Trainer Customer Service.
The project as been a great learning experience overall. The task of following the monkeys did give me a great sense several "moments of truth" including that of elation and at times frustration and disappointment. Sri Lanka was very much home away from home for me but the cultural awareness that I have experienced here was a big bonus. The group H2 was almost becoming one of my many parts in my existence and I believe I would carry home fond memories of them, the project staff and Sri Lanka.
Rachel Hughes, Engineer. UK, 2005.
Really great to get an appreciation of how field research can be carried out and issues that arise. Also of how complex conservation issues are and human population growth is impacting natural habitats. Thanks for a really interesting time.
Richard Lee, 2005, Australia. Business .
The staff are the best. Always friendly and willing to listen and help if they can. They'll teach you about culture and a few words of Sinhala and will make you laugh too. I'll miss the people, the monkeys and the food. I cannot fault the Sri Lankan staffs who are the nicest people I have met in a while.
Alison Shepperd, UK 2005. Project Manager Semiconductors.
Excellent and exciting experience despite getting up for breakfast at 5:30. The research and spending time with the animals has been a wonderful and triggered a much greater interest of animal life.
Yoko Tomosue. Japan, 2003. Management Consultant.
One of my most interesting experience in my life. It has been a wonderful time for me. Watching monkey behavior is so interesting. Data shows implications also.
Akiko Kamio , Japan , 2000 .
In this two weeks I learned a lot of things. .. This is a good experience for me. I also enjoyed sightseeing. Sri Lanka has many nature and people is kind.
Victoria Savage. 2000, USA.
I had a wonderful time. All the staff were great – very professional and fund to work with. I learned a lot and had a great (and very challenging) vacation. I would recommend this to anyone interested in animals.
Essay by a student participant
Sri Lanka's Temple Monkeys
While Frazine, my "focal" toque macaque monkey, rests high in a banyan tree surrounded by eighth century ruins of a bygone kingdom, a baby macaque swings from the tail of a disgruntled gray langur. No longer Alpha, newly deposed Frazine tosses his weight around like a CEO in forced retirement. The sweet scent of frangipani wafts my way, as does a Buddhist monk's morning chants.
One-by-one, juvenile macaques hurl themselves into the lily pond, delighting in the kerplunking. After a quick dip, they scramble out and wait in line to jump in again. And again.
Hoggs, a low-ranking male of dubious upbringing, begins to groom me, his tender monkey hands so precise in their quest. Though miffed that he actually unearths morsels to munch, my feeling special is soon squelched when Sunil, the project's research coordinator, mentions that in Hoggs' desperation to connect with anyone he's been known to groom mouse deer.
Back at camp, Kerri, the resident mongoose who's sweet on both Alison and me, (I think he liked her more,) tears over for a prolonged cuddle. Master Chef Ukku Banda dishes up curries and dhal, rice, papadam, mangoes, papaya, pineapples and the best tea ever. Our accommodations couldn't have been more comfortable; spacious rooms for two with an overhead fan and the western-style bathroom's cold water shower was plenty toasty
We beat the midday heat by swimming in the lake that goes on forever. Hard to believe that over 1000 years ago the king had the vision to "make" the lake from which water is still diverted to irrigate paddy fields during the dry season. Herons and storks congregate on the south shore while a Brahminy kite soars overhead.
Optional sightseeing trips were offered (and we all attended) to Minneriya National Park where herds of elephants rule; the archeological ruins and temples at Sigiriya and Dambulla and to the Elephant Orphanage.
From the minute we arrive at "Monkey Camp," Dr. Wolfgang Dittus, the project's principal investigator, makes us feel welcome and valued. As does Vatsala, the Earthwatch liaison, and her to-die-for son, Sheran. And here's to the exceptional field staff! After thirty-six years in the field, Wolf's training sessions and evening lectures are loaded with insight and—dare I say?–affection.
Start to finish, this expedition was just about perfect. Oh, and there was even time to shop!