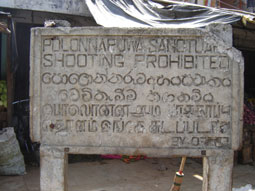 Conservation
Conservation
Guiding principle
People will conserve only what they love, and will love only what they know and understand, and will understand only what they are taught
For us as scientists, then, conservation translates into a major effort of education, disseminating knowledge about the values of our biological heritage. Our task is to motivate people with a desire to conserve wildlife and to guide them into action on how best to accomplish this. We approach this challenge at different levels. Learn more
Overall approach
Our conservation efforts take a three-pronged approach:
firstly, direct interventions in support of conservation;
secondly, education for the public and professional biologists and conservation managers;
thirdly, we conduct fundamental hypothesis-driven research and develop science based solutions to conservation problems.
Protective actions & animal rescue
Removing snares.  Our Primate Center is  often called upon by the local community to assist "nature in need." Read more .about Animal Rescue and how you can help. We intervene with poachers to protect wildlife, take steps to prevent the destruction of natural habitats, and support authorities to bring transgressors to justice. Some of our interventions have been dramatic and highlighted on local television. People in our area look to us for immediate action and our  staff regularly deal with about 50 to 100 conservation related incidents per year.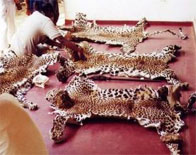 Preventing electrocutions
When humans expand their activities into natural area they often introduce disturbance, illness and death to wildlife. Monkeys, being tree climbers, are at risk from electrical transmission poles and wires. To reduce this risk we have designed special "monkey barrels" and installed them on transmission poles. The barrels prevent monkeys from reaching the wires and from being electrocuted.
Veterinary care and reintroductions
Under natural conditions monkeys inflict severe and often fatal injuries on one another. As scientists, we take an objective view of such incidents on the premise that let nature take its course: we have no business intervening. However, some injuries are inflicted through human activity and the burden of responsibility lies with us. We have a small hospital and provide veterinary care for animals injured through human carelessness. Some of our long-term care patients include the mentally ill – mostly monkeys raised as young pets and later rejected and abused by their owners when their pet matures to adulthood. We have successfully integrated and released some of these monkeys into wild monkey groups.
Human-monkey conflict reduction
Throughout most of South Asia, the littering of edible garbage is a growing problem negatively impacting the relation between humans and animals. Our program advises, on a regional level, on how best to deal with such issues, and we have instituted special programs to address them. Learn more
Winning hearts and minds
Implementing conservation often requires the legal setting aside of natural habitat areas for preservation as Nature Sanctuaries, Forest Reserves or National Parks, and the protection of these lands from encroachment. The process is highly political because it pits strong economic interest for alternate ways of using land against those of nature preservation. Policy and decision makers can be empowered more easily to decide on behalf of nature conservation if their constituencies are aware, appreciative and supportive of nature conservation.