Mammals of the Sri Lankan Dry Zone and Polonnaruwa
The following mammals, typical of the Sri Lankan dry zone, can be most easily observed at or near our study site.
Elephants
Herds of elephant graze on the shores of the lake opposite our research station. During the dry season one or more stragglers may even venture into the patch of forest surrounding our field camp.  However, elephants are most easily seen up close in large numbers on safaris to the nearby Minneriya National Park (40 min drive).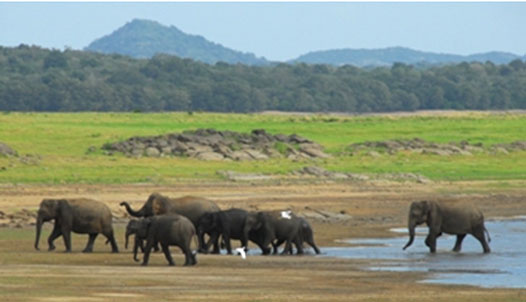 Hoofed mammals
Elusive elsewhere, tame mouse deer (Tragulus meminna) are at home in the undergrowth around our research station (See photo above on the left).
At the research site, herds of spotted deer (Axis axis) and wild boar (Sus scrofa) feed and run (when disturbed) through the forest. Water buffalo (Bubalus bubalis) graze, wallow and work as draft animals in rice fields. The barking deer (Muntiacus muntjak) though present, is rare, and together with the elk, or sambar deer (Cervus unicorn), is more easily seen in a neighboring national park.
Carnivores
The small carnivores are best represented by members of the mongoose and civet family (Viverridae). Mongooses seem always busy and pairs of the gray mongoose (Herpestes edwardsi) or the ruddy mongoose (Herpested smithii) are active almost everywhere in daytime. The beautifully striped Indian civet (Viviricula indica) and the common toddy cat (a civet, Paradoxurus hermaphroditus) are active after dark. Jackals ( Canis aureus) move about in pairs during the day, sometimes with a youngster. But otters (Lutra lutra) are more elusive. Although leopards are no longer seen at our site, fishing cats (Felis viverrina) prowl the nights. Sloth bears (Melursus ursinus) are best observed in a neighboring national park (Wasgamuwa NP).
Bats
The largest of all bats, the flying foxes (a fruit-eating bat; Pteropus giganteus) favor several roosting trees in our forest, and at dusk they fly in large swarms to their feeding grounds. A variety of small insectivorous bats (Microchiroptera) show their aerobatic skills in search of prey around our station.
Rodents
The black collared hare (Lepus nigricollis) feeds on grassy patches at dusk, while the large porcupine (Hystrix leucurus) is more nocturnal. The giant squirrel (Ratufa macroura) nests in trees next to our station and the striped palm squirrel (Funambulus palmarum) is almost too conspicuous by sound and sight. The bandicoot, or giant rat, seek its meal in gardens but is shy even in the night.