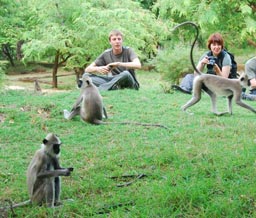 Monkey Tours
Who participates and benefits?
If the phenomenon of life interests you, this is for you
The tour is best suited for persons that have a keen interest in learning about the sophisticated lives of primates, social evolution, basic field research methods, and issues of conservation in a habitat country. Anyone over the age of 16 years is qualified.
Past participants have come from many different walks and phases of life: laymen, students, zookeepers, anthropologists, wildlife managers, as well as retirees and workers from an array of other professions. See their comments and testimonials about their experience on this expedition.
Laymen Research tasks that we offer can be learned in 2-3 days of training by our staff. The learning curve is rewarded with the self-discovery of new information about nature, primates and the human condition. We welcome persons with expertise in photography, computer use, veterinary medicine, education, art, writing, fund raising, GIS, and others. We may ask them to apply their skills to special assignments.
Students and Interns We teach methods of recording behavioral and ecological data. The practice helps students to get a feel for field work with primates in their natural habitat, and to guide career choices (e.g., zoology, anthropology, conservation). We have occasional opportunities for veterinary procedures.
Wildlife Conservation and Captive Mangers (zookeepers) Behavioral studies are important to the management of primates in the wild and in captivity. Wildlife managers find the program attractive for its focus on primates, the problems that these animals face in the modern world.
Enrichment of captive environments Zoos are often challenged in providing stimulating environments for intelligent primates. At our site we show how each primate species is an integral part of an ecological context with specialized adaptations that make it an exclusive expert in a particular niche. Participants see first-hand how wild primates follow highly variable life-styles with different needs. This knowledge can be applied to enrich captive settings.
Demands of the Expedition
There will be no extraordinary physical demands placed on expedition participants. Stamina, however, is required in order to walk through shady forest vegetation in hot weather for several hours continuously, and to occasionally crawl through thorny scrub. In terms of psychological demands, behavioral observations demand patience, constant alertness and persistence. One has to feel content to watch animals for long periods of time and to focus on the data collection protocol. Fortunately, the monkeys almost always reward the observer with shows of delightful and interesting behaviors.
Below are the expected physical demands of the project, but please keep in mind that conditions may change and the project could potentially be more or less strenuous than the chart indicates.
| | | |
| --- | --- | --- |
| Activity | Workload | Time |
| Sitting | About 30% of observation time | 2-3 hours per day for 10 days |
| Bending | Sometimes when walking through shrubby areas | Few minutes per day for 10 days |
| Walking | 1-2 km slowly | 4 hours per day at most |
Related Resources:
Site
Risks
Publications
Accommodations