May 2012
. See videos of infant macaque "Gremlin"  filmed with us at our site for BBC Planet Earth Live
The toque macaques at our study site at Polonnaruwa, are currently being filmed by the film crew of the BBC and will be featured in films and clips on BBC websites
"Gremlin" an infant toque macaque has caught the eye of the film crew and is a main character in the feature on BBC Planet Earth Live on toque macaques. Click here to see more photos
Please vote for this monkey!!
Your opinion  counts.
BBC Producer, Andrew Chastney (left),  and cameraman, Andrew Yarmey (right),  keep an eye on a grooming pair of toque macaques of our study group "M3".  The same group of macaques had been featured some years ago in the BBC documentary films "
Temple Troop
" and "
Social Climbers
." (The links show video exerpts, not the whole film).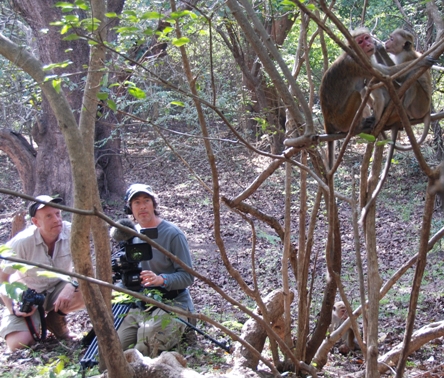 See video: 
cheeky monkey
filming cameraman